Logan County Courthouse Art Gallery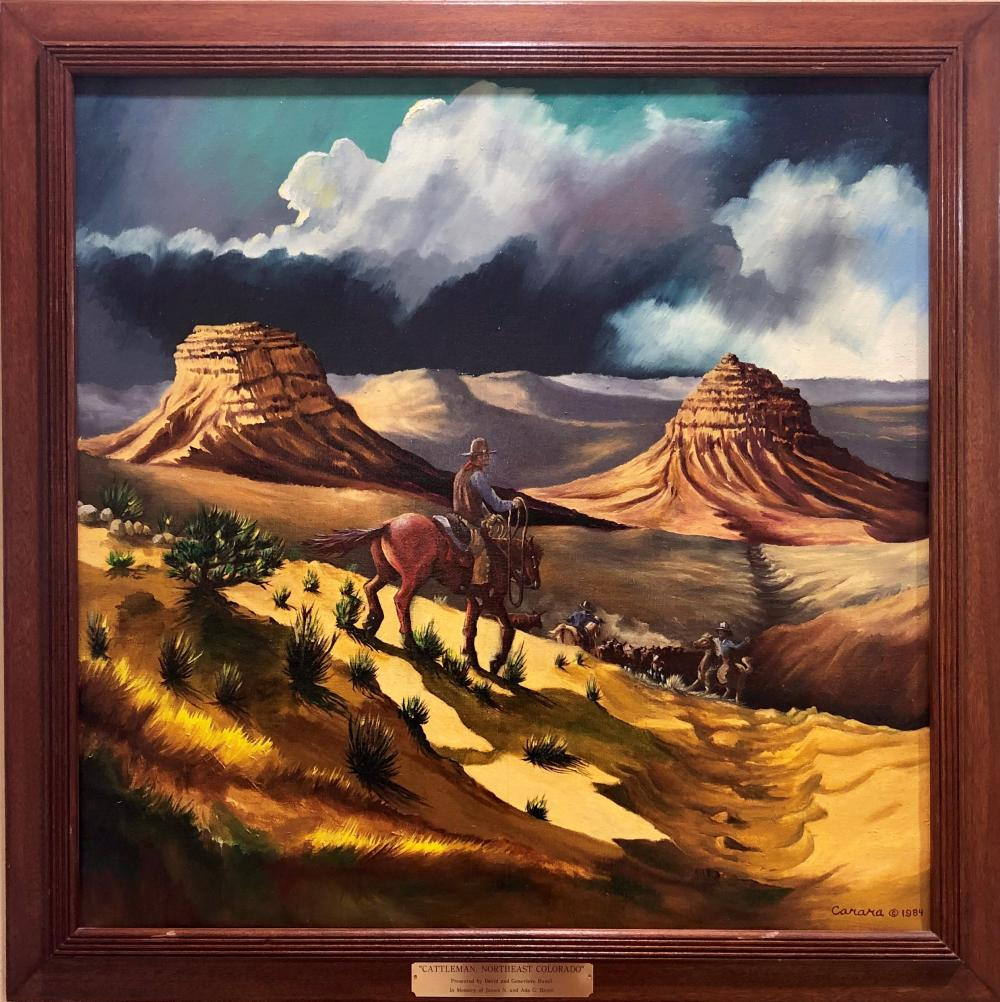 "Cattleman: Northeast Colorado"
"This painting characterizes the early cattle country of northeast Colorado. The beauty of an August evening is.... created here by revealing the complex skies and a vast pasture land panorama. The majestic Pawnee Buttes are revealed like giant ships sailing across the waves of cool violet canyons in the background. The setting sun softly warns the cattlemen of the end of another northeast Colorado day. However, experience has taught them that these days are drawing to a close and the severe bite of the winter wind is just around the corner." --Artist Eugene Carara
Inside the historic Logan County Courthouse in downtown Sterling is the Eugene Carara art collection. These oil paintings were purchased by private citizens and then donated to Logan County to keep the collection together. The paintings are symbolic of historically important events or locations to the people of northeastern Colorado.
Cattlemen: Northeast Colorado     1860—1984
The cattlemen found an ideal range in northeast Colorado, "the greatest pasture ever known." In summer, the grass sometimes grew belly high on the cows. In winter, it cured like hay, and the herds could continue to graze on it.
John Wesley Iliff, the famous Cattle King of Colorado, controlled 150 by 100 miles of prairie land. His herd numbered in the tens of thousands, and he figured his expenses on the prairie at only 6 to 75 cents per head. But when homesteaders put up fences, his cattle could no longer drift south ahead of the blizzards. They piled on the fences and died by the thousands.
Iliff was succeeded by smaller ranch outfits which raised feed for their cattle and gave them winter protection. But during the past century they, too, have suffered the assaults of nature, and they did not long enjoy the free range that made Iliff rich. They have been battered by numerous economic disasters, as well, and today the ranks of those early ranchers are thinning.
Logan County historian Nell Brown Propst