Light Up Your Holidays in Logan County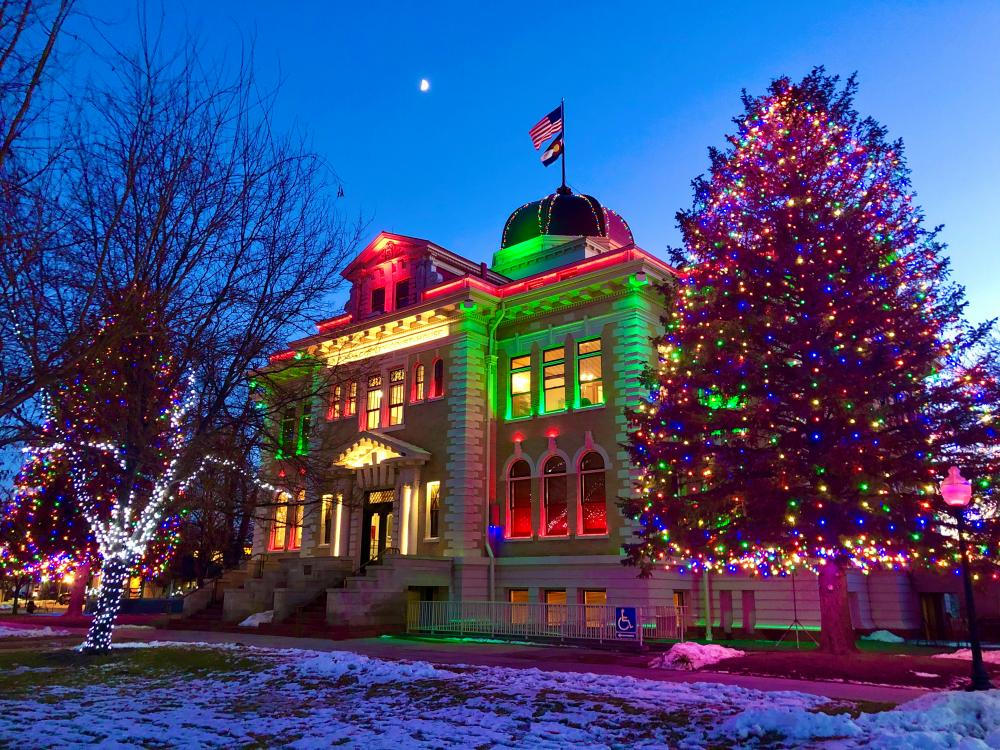 The Christmas light display on the Logan County Courthouse in downtown Sterling has awed holiday revelers from near and far for decades. C & B Electric staff were the original designers and installers of the annual display and reportedly were inspired by Denver's Civic Center holiday décor. Read about the history of Christmas lights here.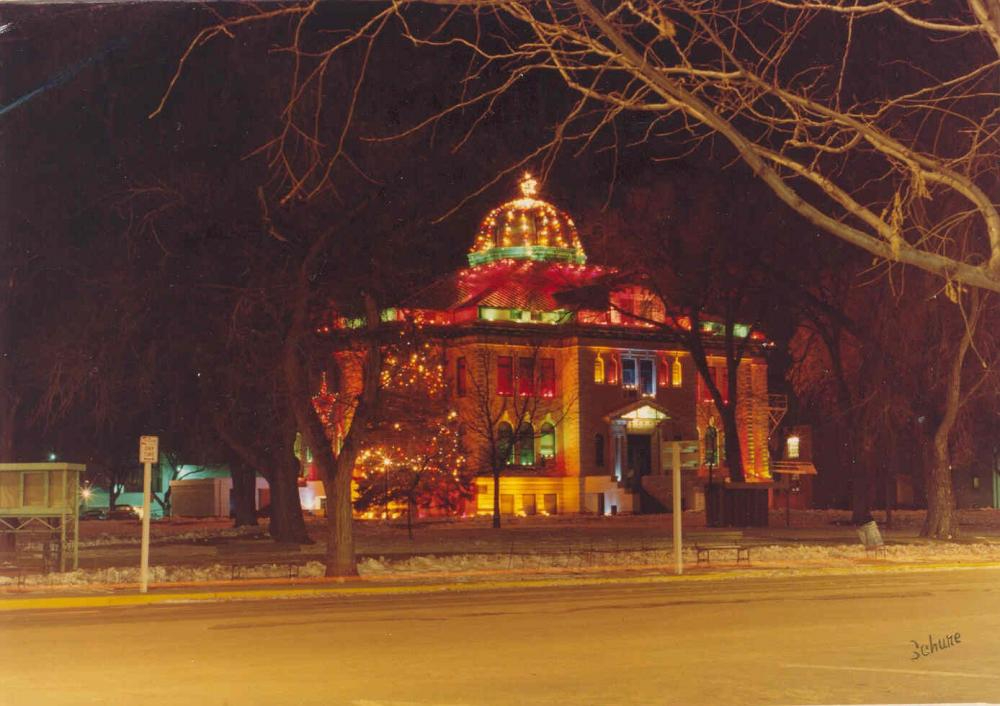 Crews remember working on the display for the first time in 1951 when they were able to look down on the evergreen trees that are now taller than the courthouse from the top of a 10 ft. ladder.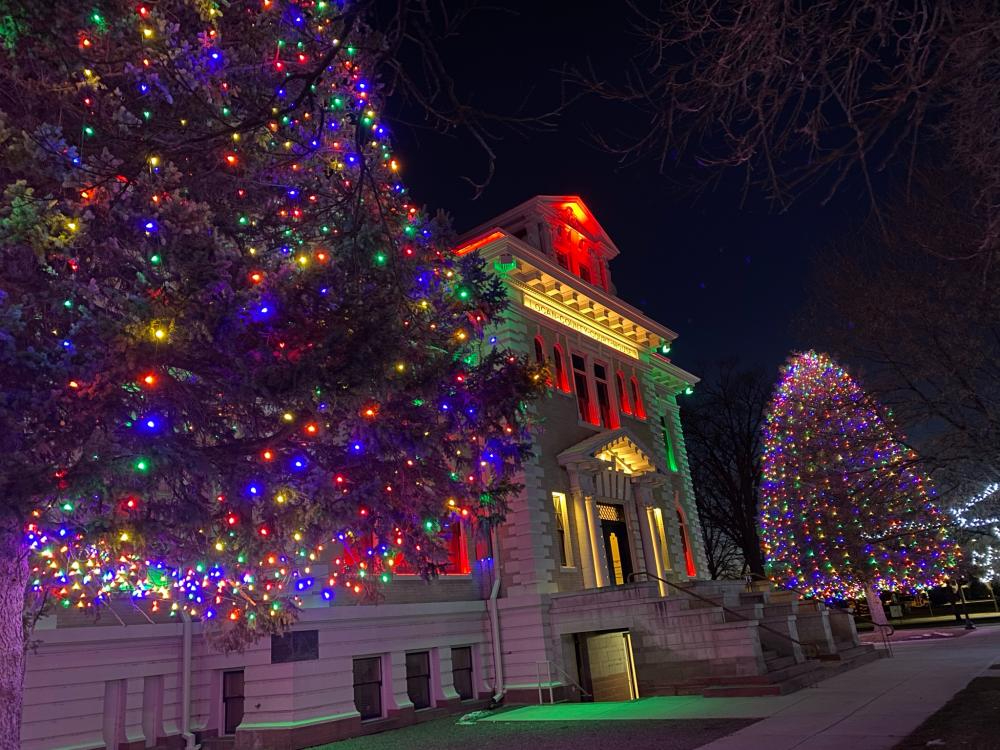 The bright display on the historical building in the center of Sterling's town square was – and still is - a beacon for the holiday season. Visitors and travelers coming into Sterling from the east are welcomed by the glowing sight from atop the Chestnut Street overpass.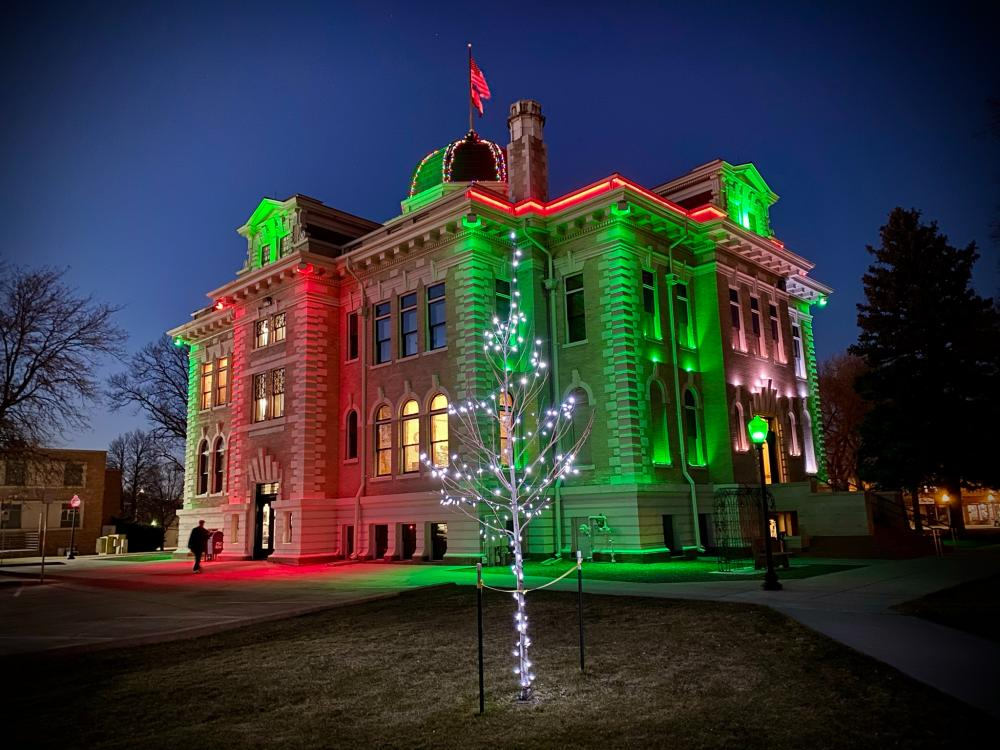 During an almost $5 million historical renovation project in the early 2000s, the old lighting brackets and fixtures had to be removed and the grand building was instead adorned with more efficient and effective LED lighting. You can learn more about the history of Logan County and the Logan County Courthouse here.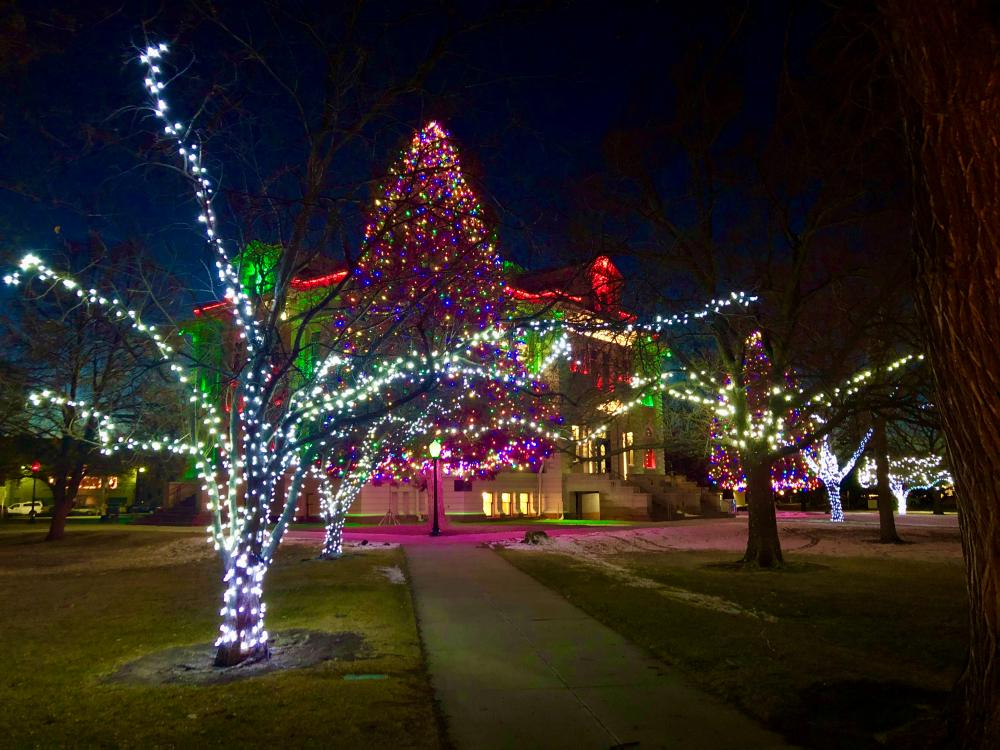 The new holiday light display in the center of town now includes the majestic and brightly decorated evergreens on the front corners of the courthouse, plus the many strings of white lights fancifully wrapping the trees on the square. The traditional lighting of the Courthouse every year on the Friday after Thanksgiving is a special time for the community.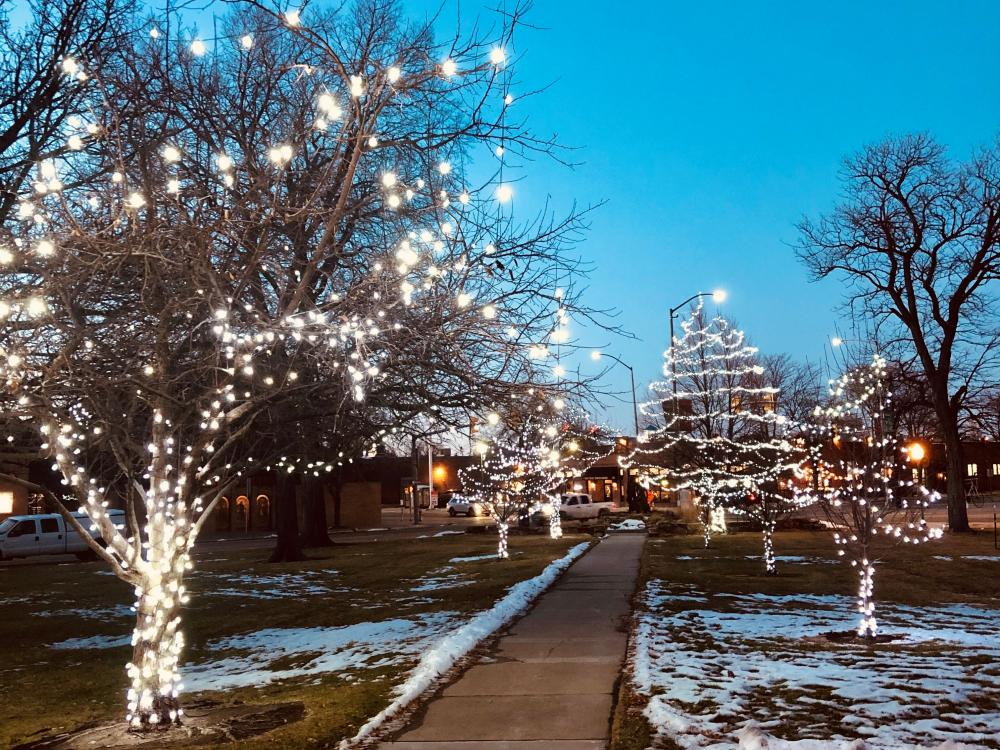 With a dusting of snow reflecting the sparkling lights, it truly is a winter wonderland in downtown Sterling.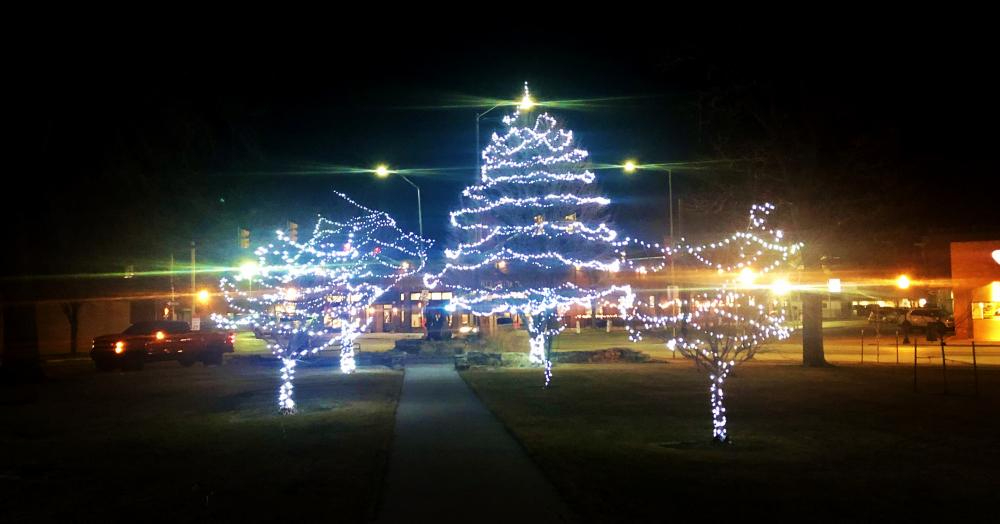 And as Christmas music plays from the stores across the street, you just might imagine this quaint space as a scene from a Hallmark movie. Go ahead, we don't mind.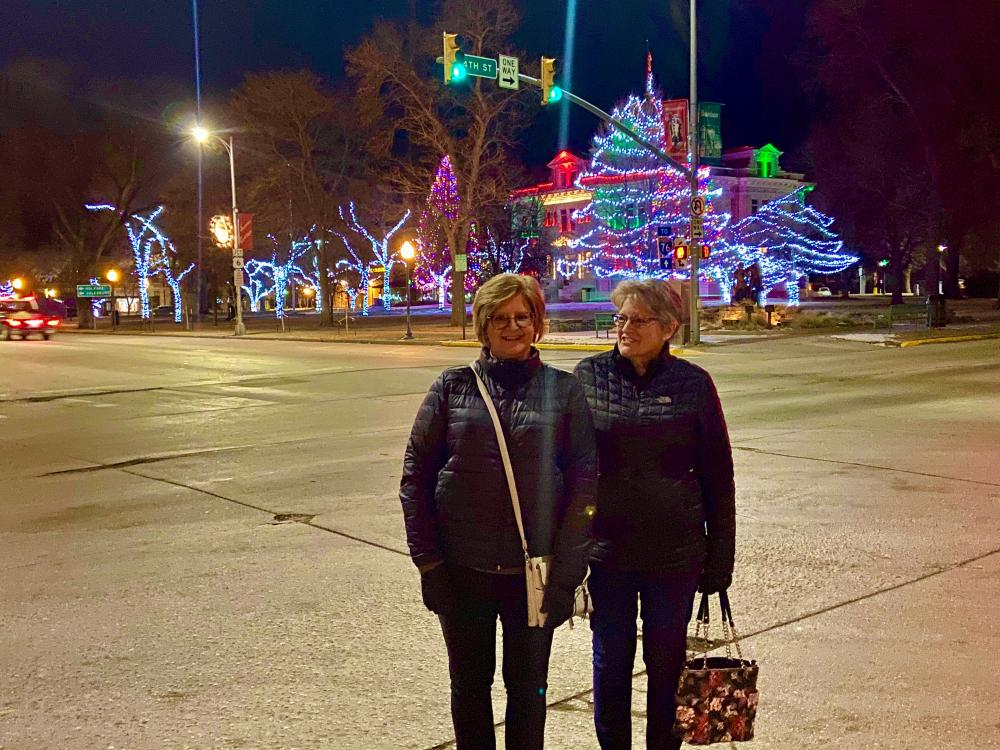 WHERE TO EAT Logan County's culinary culture includes down-home diner favorites, unique cuisine, and signature specialties at our restaurants. Support the local establishments with their outside dining, curbside pickup and carryout.
WHERE TO STAY Accommodations in Sterling range from a quaint boutique motel to modern hotels in beautiful settings. Travelers who prefer recreational vehicles or tent camping will feel right at "home" at our campsite facilities.
STAY IN TOUCH Want to keep up with everything that Sterling has to offer? Sign up for our digital newsletter and get the latest news, deals and more delivered right to your inbox!